UPCOMING TURN BASED RPG GAMES
https://youtu.be/iKXLZ9bT3Hg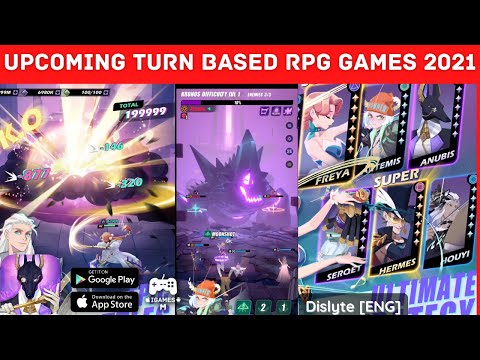 youtu.be
UPCOMING TURN BASED RPG GAMES 2021 | Dislyte [ENG] | CBT GAMEPLAY - YouTube
NEWS GAMES TO PLAY ON 2021: https://www.youtube.com/playlist?list=PLvu5DpQfyeLr8Qw7cDh3Ik7z9cY5qDr-4UPCOMING GAMES 2021: https://www.youtube.com/playlist?lis...
UPCOMING TURN BASED RPG GAMES 2021 | Dislyte [ENG] | CBT GAMEPLAY

Games : Dislyte
Language : English
Size : 1.5GB
Price : Free
Platform : Android, IOS
Download [CBT] :
GooglePlay
https://play.google.com/store/apps/details?id=com.lilithgames.xgame.gp&referrer=adjust_reftag%3DcsvNn1pz2yT0h%26utm_source%3D%25E7%25A4%25BE%25E5%258C%25BA%26utm_campaign%3DXgame
ApkPure
https://m.apkpure.com/dislyte/com.lilithgames.xgame.gp
IOS
Coming Soon

🔴***Dislyte's Open Beta Test officially starts today for Android device users of the following regions: UK, Canada, Australia, Philippines, and Indonesia. More info: https://www.facebook.com/Dislyte
🔴***Minimum configuration: Android 6.0, OpenGL 3.1, 2GB of free space.
🔴***If you are outside of the following regions you can download with ApkPure.


Graphic 4/5

Sound 4/5

Gameplay 4/5

Storyline 3/5

Overoll 4/5


Gameplay :
https://youtu.be/iKXLZ9bT3Hg

Keyword :
#Turnbasedrpg #mobilegames #Dislyte

---------------------------------------------------------------------------------------------------
NEWS GAMES TO PLAY ON 2021: https://www.youtube.com/playlist?list=PLvu5DpQfyeLr8Qw7cDh3Ik7z9cY5qDr-4

UPCOMING GAMES 2021: https://www.youtube.com/playlist?list=PLvu5DpQfyeLruP_M_94iXiStsBSdv2UnS